Paul Burkett
Chief Executive Officer & Executive Director
Paul is a highly experienced business leader with a distinguished career spanning 40 years in various forms of resident and guest accommodation and care. His career began in Hospitality, where he worked as General Manager for 4 & 5-star hotels and resorts both nationally and internationally. Paul's innovative thought leadership led to his appointment as Chairman of the Australian Hotels Association NSW.
He then ventured into the Retirement Living sector and led the growth of a group from an initial base of five villages in NSW to over 30 villages across five states. This rapid growth culminated in the group's acquisition by a major national property corporation.
In 2011, Paul joined Baldwin Living, where he continues to commit his leadership, systems, and networking skills. This has enabled the business portfolio to more than double in size in just over 10 years. Paul finds the retirement living sector to be rewarding, as residents impart their life lessons and wisdom through their stories. He enjoys engaging with residents to understand their needs and working collaboratively with the residents and his team to find solutions.
Beyond his work as CEO, Paul is a strong advocate for constructive engagement between residents and operators. He has chaired the Property Council of Australia's NSW Retirement Living Council and served as a Committee member for Leading Aged Services Australia. He is also closely involved with the NSW Residents Association.
In his leisure time, Paul enjoys outdoor activities such as cycling, surfing, and gardening. For 12 years, he was also a long-time volunteer of North Curl Curl Surf Lifesaving Club providing support as a lifesaver and water safety leader for Nippers.
Paul's diverse range of skills and experiences make him an invaluable asset to the business, and his commitment to improving the lives of residents is a testament to his character.
Ben Baldwin
Asset Manager & Executive Director
As the eldest grandchild of the late Tony Baldwin (Founder), Ben is on a mission to take the family business to the next level and push it to become the leading mid-sized retirement operator in Australia.
In his dual roles as Asset Manager and Executive Director, Ben works closely with the Board, Executive, and Operations teams to create safe, enjoyable, and fulfilling lifestyles for all residents. Ben believes that a great leader is one who leads with action and empathy. He is committed to these values, making him a natural fit as the Group's operational growth and compliance lead across the village and HomeServe businesses.
Ben's commitment to providing the highest standards of care and service to residents is evident in his role as Group administrator for the Australian Retirement Village Accreditation Scheme (ARVAS) and Retirement Living Code of Conduct. He takes pride in ensuring that every aspect of the business meets and exceeds industry standards.
Ben's academic background is in business administration from Macquarie University. Previously, he gained valuable professional experience in several sectors, including Hospitality, Human Resources, Media, and Enterprise Software Sales. He's worked in businesses of all structures and sizes, giving him an appreciation of the unique challenges that each face.
Beyond work, Ben is an intrepid traveller, keen green thumb, and his favourite activities include hiking, surfing, and skiing. He also volunteers with WIRES, trained in the rescue, rehabilitation, and release of injured Australian wildlife.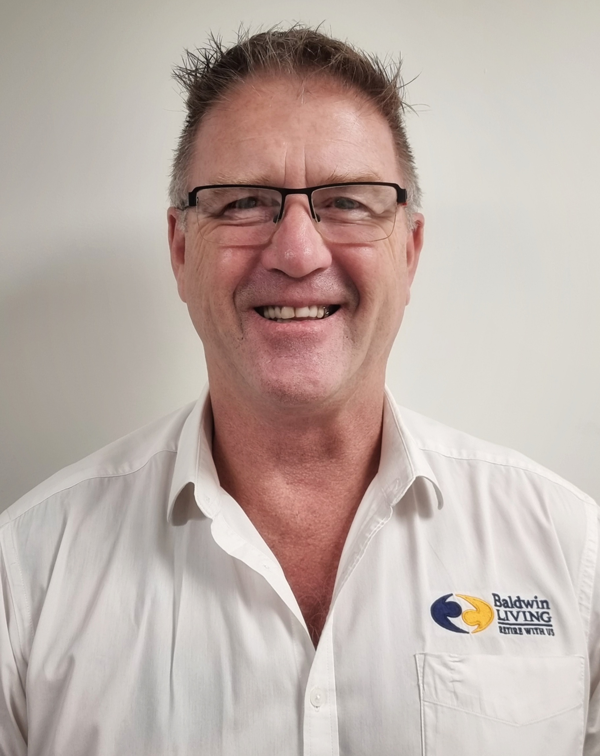 Jeremy Gill
Sales Manager
Jeremy is a Sales Manager with a passion for people and community. With an impressive career spanning across Australia's east coast, Jeremy brings a wealth of experience in sales leadership and management to his role at Baldwin Living.
But it's not just about the numbers for Jeremy. As the leader of our Sales team, he takes pride in guiding and supporting residents as they make the transition into one of our villages. Watching them thrive in their new home brings him immense joy and satisfaction.
Approachable and knowledgeable, Jeremy is always willing to answer any questions you may have about the resident journey. Whether you're a business partner or a prospective resident, he is committed to helping you find the right solution.
Outside work, Jeremy is a man of many hobbies. He can often be found tinkering with old cars or exploring the beautiful roads of Tassie on his motorbike. He also serves as the State Coordinator for Black Dog Ride Tasmania, a not-for-profit organisation raising awareness and funding for mental health awareness and suicide prevention.
Give Jeremy a call today and see how he can help you embark on your journey with Baldwin Living.
Lesley Nankivell
HomeServe Manager
Lesley is an experienced professional with over two decades of expertise in Community and Aged Care Services. As the HomeServe Manager at Baldwin Living, Lesley is responsible for leading the team and ensuring top-quality care for seniors in the community.
Lesley joined Baldwin Living in 2017 as a HomeServe Case Manager, and her passion and dedication soon earned her the role of HomeServe lead. She works closely with her team to provide seniors with the support and resources they need to live independently in their own homes.
Lesley is committed to continuous learning and is always seeking new ways to improve the quality of care provided to seniors. She is known for her outstanding energy, curiosity, and care towards her clients, which has earned her the respect and admiration of her colleagues and clients alike.
In addition to her professional achievements, Lesley is a proud grandmother and picky skier (strictly Japanese slopes only). She also loves spending time with her three cats, as she is a self-proclaimed "crazy cat lady".
With her wealth of experience and passion for senior care, Lesley is a valuable asset to any business looking to provide top-quality care to the elderly.